Chinese Proves US STATE DEPT. Running Violent Protests in Hong Kong
Is the "Victoria Nuland" of Hong Kong — Julie Eadeh — a Mossad agent working for State
The US State Department has released a statement in response to Chinese officials and state media accusing a US diplomatic official based in Hong Kong of interfering in Chinese affairs. State media widely reported on a viral photo showing US foreign service agent Julie Eadeh – identified as the political unit chief of the US Consulate General – meeting with leading anti-Beijing activists at a Hong Kong hotel on Tuesday amid continuing unrest in the semi-autonomous city.
A State Department spokesperson on Thursday afternoon issued a statement calling China a "thuggishregime" for releasing details on the US diplomat stationed in Hong Kong.
"I don't think that leaking an American diplomat's private information, pictures, names of their children, I don't think that is a formal protest, that is what a thuggish regime would do," spokeswoman Morgan Ortagus told a news briefing. "That is not how a responsible nation would behave."
Multiple Chinese state media reporters previously referred to Eadeh as a "subversion expert" who is in contact with Hong Kong protest organizers in order to fuel chaos and unrest in the city.
China earlier in the day summoned US consulate officials over the matter, demanding answers.
***
previously
After a viral photo surfaced this week revealing continuing contact between well-known Hong Kong pro-independence protest leaders and a US diplomatic officer, China has summoned US consulate officials stationed in the city, Bloomberg reports.
According to a statement from Office of the Commissioner of the Ministry of Foreign Affairs in Hong Kong, Chinese officials asked the Americans to clarify media reports that a US diplomat had contacted the local protest leaders. Bloomberg reports the clear firm message sent that "China firmly opposes any contacts with them and urges U.S. to stop sending wrong signals to violent law breakers in Hong Kong."
As well organized anti-Beijing protests have raged and continued to escalate this summer over the deeply controversial extradition bill, Beijing authorities have repeatedly blamed a US "hidden hand" for fueling the crisis.
Pro-Beijing publications reported that protest leaders and key organizers Joshua Wong and Nathan Law had met with American consular official Julie Eadeh in the late afternoon on Tuesday at the JW Marriott Hotel in the Admiralty area of Hong Kong.
The viral photograph confirms the meeting took place and is driving outrage in China. State media claimed Eadeh – identified as the political unit chief of US Consulate General– met with the activists to discuss plans regarding the controversial extradition bill.
According to the UK's The Standard, Joshua Wong brushed off the significance of the meeting while admitting it did happen:
Wong dismissed the allegation following an inquiry by The Standard, saying: "I even went to Washington several times, so what's so special about meeting a US Consul?"
Wong explained he did meet with the US official to discuss the extradition bill, but also in order to urge the United States to cease exports of tear gas and rubber bullets to the Hong Kong SAR government.
It wasn't his first meeting with US officials, Wong stated further: "We also met the US Consul that visited the Legislative Council and have a meeting with pro-establishment and pan-democrat legislators," according to his statement.
The contact between the anti-China force and a US diplomat is "solid evidence" the US is behind the riots in Hong Kong, Li Haidong, a professor with the China Foreign Affairs University's Institute of International Relations in Beijing, told the Global Times. — China's Global Times
Likely, Wong's rebuttal will not appease Chinese media and authorities who point to the incident as proof of US subversive action against Beijing inside the semi-autonomous city.
Eadeh has been engaged in diplomatic missions across the globe, especially in political "hot spots" from Baghdad to Beirut to Jerusalem to Taipei and Shanghai during her lengthy career with the US State Department, according to a short biographical essay she recently penned for Georgetown University's School of Foreign Service.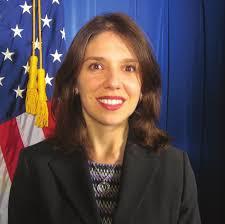 Chinese state media pundits, however, have pointed to her career stationed in war zones such as Beirut during the 2006 war and in Baghdad and Mosul as suggesting she may be more than a mere "consular officer". Covert CIA officers often pose as State Department consular staff in order to conceal their identity, while also giving them diplomatic immunity in host countries.
One columnist for the Communist Party state newspaper, China Daily, went so far as to say the US diplomatic meeting with protesters points to CIA involvement in the unrest on Hong Kong's streets.
The newspaper's Europe bureau chief, Chen Weihua, wrote on Twitter:
There were reports suggesting Julie Eadeh is a trained subversion expert at the US consulate in Hong Kong. Her meeting with HK protesters would be evidence of US inciting and instigating the riots in Hong Kong. Is she under the direct order of former CIA chief Mike Pompeo?
Whether this is the case or not, we can imaging how US officials would react if Chinese or Russian diplomats were photographed meeting with American anti-government protesters at a moment of serious unrest in US cities.
~~~~~~~
http://wetheonepeople.com/chinese-proves-us-state-dept-running-violent-protests-in-hong-kong/= this post